Discover the best beaches in Ibiza and Formentera with Nautic Blue
The natural wealth of Ibiza and Formentera hide coves full of exclusivity, tranquility, and beautiful landscapes in the purest Mediterranean style for those who wish to experience a unique and unforgettable holiday. Nautic Blue has created this selection of the best coves in Ibiza and Formentera where you can taste a delicious appetizer, admire the natural landscape of the island, enjoy a unique sunset in the world or anchor one of our exclusive yachts carefully selected to please all your wishes. Heaven is a place on Earth, and there is no doubt that it is in Ibiza and Formentera.
SES ILLETES Y ESPALMADOR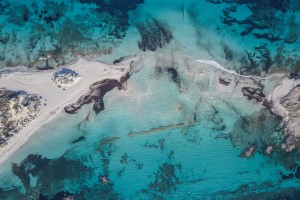 Mediterranean nature in its purest form, those are the words that come to mind when we talk about Ses Illetes and Espalmador located in the heart of the Natural Park of Ses Salines in Formentera. If you are looking for private places to enjoy the Mediterranean and the quiet, Formentera awaits you. Dive into this almost paradisaical island and enjoy the tranquility and disconnection surrounded by white sand and crystalline waters.
The lack of restaurants and tourist infrastructure are essential elements for considering these natural landscapes as one of the least overcrowded and tranquility of the island. Its crystal clear and calm waters invite you to practice nautical sports, which you can enjoy next to Nautic Blue. We can affirm that the sunset from Ses Illetes and Esplamador is magical and unique in the world.

CALA JONDAL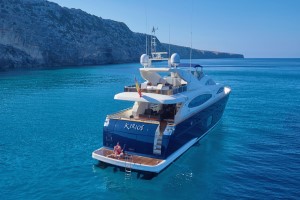 Visiting Cala Jondal is a unique opportunity to sail on board one of our exclusive yachts surrounded by nature and tranquillity in Ibiza. If you want to enjoy a landscape full of harmony wrapped in the turquoise waters of Ibiza, be sure to discover all the corners of this magnificent cove. Enjoy this beautiful place on privacy, between the abundant nature and clear Ibizan waters, where you can take  a comforting bath covered with the charm of the island, is a feeling you must live.
Of this cove without a doubt, we highlight its turquoise waters that do not leave anyone indifferent who visits them. In addition, this cove is also recognized as one of the meeting points among the people of Ibiza because it is surrounded by famous beach clubs, where you can disconnect and relax in front of the magic of the White Island.
CALA D´HORT (ES VEDRÀ)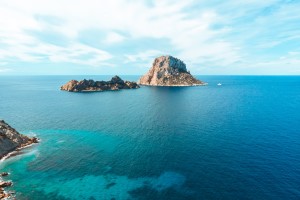 Have you heard of the islet of Es Vedrà? We are sure that yes. In Cala D'Hort we find one of the most recognized tourist spots in Ibiza. Admiring the majestic islet of 382 meters above the sea, does not leave any visitor indifferent, is a unique and very pleasant experience. Es Vedrà is recognized in 2002 as a nature reserve in the Parc de Cala d´Hort, due to its high ecological value.
But there is still more, from the Parc de Cala d Hort i Es Vedrà we can find other islets such as Es Vedranell and Es Illots de Ponent. In addition to the high landscape value of the cove, we can enjoy its turquoise waters with soft sandy bottoms that make this cove one of the best landscapes for snorkelling in Ibiza. We can say that the sunset from Cala D'Hort is magical and unique in the world. Do you want to discover all the secrets that these islets hide? Relax and enjoy, Nautic Blue will take care of giving your eyes one of the best sunsets in Ibiza.
 ES CALÓ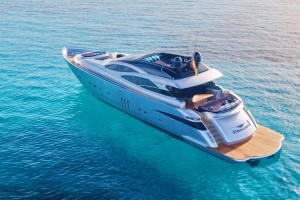 Es Caló hides unique natural landscapes. The uniqueness and serenity that floods this cove make this landscape one of our favourites to anchor our yachts. Es Caló is a small fishing village with a natural port declared of cultural interest surrounded by traditional restaurants and the classic wooden boats of Formentera.
This small cove stands out for the large amount of Posidonia Oceanica on its rocky seabed, which offers various shades of blue, ideal for snorkelling  in Formentera. If you are looking for calm, harmony and relaxation, this practically untouched oasis will offer you a natural paradise in which to enjoy the still wild area of Formentera.
PORROIG
Cala Porroig is in a bay surrounded by pine mountains. In this beautiful cove we will not find sand to lie down on, but flat rocks that invite us to rest and connect with the environment. The cove of Porroig is located on the southwest coast of the island of Ibiza, in a bay very closed to the sea ideal to anchor our exclusive yachts surrounded by nature and harmony.
The cliff forms one of the most outstanding elements of Ibiza to enjoy the sunset, making this landscape one of the most desired to admire the sunset on the White Island. Porroig offers a unique corner where you can get lost and let yourself be carried away by the variety of colours of the sea, its impressive cliff, and the magical sunset.
CALA CONTA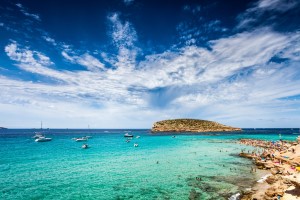 Also known as Platges de Comte, it is one of the busiest places on the island and it is not for less because it offers completely crystal clear waters, perfect for practicing nautical sports. Bathing in the clear waters of Ibiza and enjoying the sea, the breeze, the sun and feeling the salt water on your skin is one of the most satisfying experiences of the White Island. Cala Conta is the ideal landscape to experience all these sensations and dive into in the best summer of your life.
In this attractive cove we can find several areas of sand, one of them protected by the literal rock and the other area wrapped by sand dunes. Its shallow depth makes it an ideal cove for snorkelling in Ibiza, allowing you to discover the impressive and immense fauna and marine flora of Ibiza. Live the experience of enjoying a quiet sunset aboard our exclusive yachts.
CALA SAONA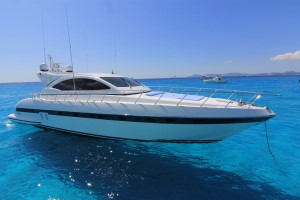 Cala Saona stands out for being considered one of the whitest waters in Formentera. It is a cove of fine sand ideal to enjoy with the whole family, especially if you go with small children. Framed in an idyllic setting surrounded by nature, which also has a large tourist infrastructure, which means that during the summer months it becomes a very popular beach for tourists who want to enjoy one of the most beautiful natural and family enclaves of Ibiza.
Another reason why we recommend this cove is because it is ideal for anchoring because it has a great depth to enjoy one of the best sunsets on Formentera. Cala Saona is perfect for anchoring if you want to go ashore and take a swim with the little ones. Cala Saona is recognized as one of the most recognized points of family tourism in Ibiza.
1 June, 2022