The natural wealth of Ibiza and Formentera hide coves full of exclusivity, tranquility, and beautiful landscapes in the purest Mediterranean style for those who wish to experience a unique and unforgettable holiday. Nautic Blue has created this selection of the best coves in Ibiza and Formentera where you can taste a delicious appetizer, admire the natural landscape of the island, enjoy a unique sunset in the world or anchor one of our exclusive yachts carefully selected to please all your wishes. Heaven is a place on Earth, and there is no doubt that it is in Ibiza and Formentera.
SES ILLETES Y ESPALMADOR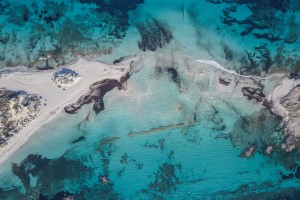 Mediterranean nature in its purest form, those are the words that come to mind when we talk about Ses Illetes and Espalmador located in the heart of the Natural Park of Ses Salines in Formentera. If you are looking for private places to enjoy the Mediterranean and the quiet, Formentera awaits you. Immerse yourself in this almost untouched paradisiacal island and enjoy the tranquility and disconnection surrounded by white sand and crystalline waters.
The lack of restaurants and tourist infrastructure are essential elements for considering these natural landscapes as one of the least overcrowded and tranquil of the island. Its crystal clear and calm waters invite you to participate in water sports, which you can enjoy next to Nautic Blue. We can affirm that the sunset from Ses Illetes and Esplamador is magical and unique in the world.

CALA JONDAL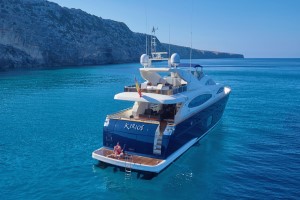 Visiting Cala Jondal is a unique opportunity to sail onboard one of our exclusive yachts surrounded by nature and tranquillity in Ibiza.If you want to enjoy a landscape full of harmony wrapped in the turquoise waters of Ibiza, be sure to discover all the corners of this magnificent cove.Enjoy this beautiful place in privacy, between the abundant nature and clear Ibizan waters, where you can take advantage of a comforting bath wrapped in the charm of the island, is a feeling you have to live.
Cala Jondal destaca por sus turquesas aguas que no dejan indiferente a sus visitantes. Además, esta cala también es reconocida por ser uno de los puntos de encuentro entre las personas de Ibiza debido a que se encuentra rodeada de famosos beach clubs, donde poder desconectar y relajarse frente a la magia de la Isla Blanca.
CALA D´HORT (ES VEDRÀ)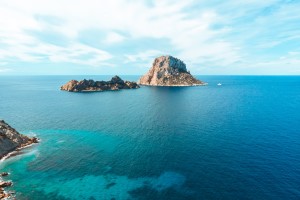 ¿Has oído hablar del islote de Es Vedrà? Estamos seguros de que sí. Y es que en la Cala D´Hort encontramos uno de los enclaves turísticos más reconocidos de Ibiza. Admirar el majestuoso islote de 382 metros sobre el mar, es una experiencia única y muy placentera Es Vedrà es reconocido en 2002 como reserva natural en el Parc de Cala d´Hort, debido a su alto valor ecológico.
Pero todavía hay más, desde el Parc de Cala d´Hort i Es Vedrà podremos encontrar otros islotes como Es Vedranell y los Es Illots de Ponent. Además del alto valor paisajístico de la cala, podemos disfrutar de sus aguas turquesas con fondos de arena suave que convierten a esta cala en uno de los mejores paisajes donde practicar snorkel en Ibiza. ¿Quieres descubrir todos los secretos que esconden estos islotes? Relájate y disfruta, Nautic Blue se encargará de brindar a tus ojos uno de los mejores atardeceres de Ibiza.
 ES CALÓ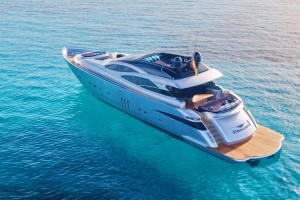 Es caló esconde paisajes naturales únicos. La singularidad y serenidad que inunda esta cala convierten a este paisaje en uno de nuestros favoritos para fondear nuestros yates. Es caló es una pequeña población pesquera con un puerto natural declarado bien de interés cultural rodeado de tradicionales restaurantes y los clásicos barcos de madera de Formentera.
Esta pequeña cala despunta por la gran cantidad de Posidonia Oceánica en su fondo marino rocoso, que ofrece diversas tonalidades de azul, ideal para practicar snorkel en Formentera. Si busca calma, armonía y descaso, este oasis prácticamente virgen te ofrecerá un paraíso natural en el que disfrutar de la zona de Formentera aún salvaje.
PORROIG
La cala Porroig se encuentra situada en una bahía rodeada de montañas de pinos. En esta preciosa cala no encontraremos arena donde tumbarnos, sino rocas planas que invitan al descanso y a la conexión con el medio. La cala de Porroig se sitúa en la costa suroeste de la isla de Ibiza, en una bahía muy cerrada al mar ideal para fondear nuestros exclusivos yates rodeados de naturaleza y armonía.
El acantilado conforma uno de los elementos más destacados de Ibiza para disfrutar de la puesta de sol, convirtiendo este paisaje en uno de los más deseados para admirar el atardecer en la Isla Blanca. Porroig ofrecen un rincón único donde perderte y dejarte llevar por la variedad de colores del mar, su impresionante acantilado y la mágica puesta de sol.
CALA CONTA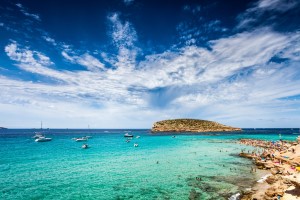 También conocida como Platges de Comte, es uno de los lugares más concurrido de la isla y no es para menos debido a que ofrece aguas completamente cristalinas, perfectas para la práctica de deportes náuticos. Bañarte en las nítidas aguas de Ibiza y disfrutar del mar, la brisa, el sol y sentir el agua salada en tu piel es una de las experiencias más satisfactoria de la Isla Blanca. La cala Conta es el paisaje ideal para experimentar todas estas sensaciones y sumergirte en el mejor verano de tu vida.
En esta atractiva cala podemos encontrar varias zonas de arena, una de ellas protegida por el literal rocoso y la otra zona envuelta por dunas de arena. Su poca profundidad la convierte en una cala ideal para practicar snorkel en Ibiza, permitiéndote descubrir la impresionante e inmensa fauna y flora marina ibicenca. Vive la experiencia de disfrutar un tranquilo atardecer a bordo de nuestros exclusivos yates.
CALA SAONA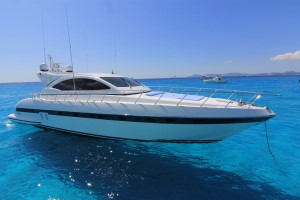 La cala Saona destaca por ser considerada como una de las aguas más blancas de toda Formentera. Es una cala de fina arena ideal para disfrutar con toda la familia, especialmente si vais con niños pequeños. Enmarcada en un paraje idílico rodeado de naturaleza, que además cuenta con una gran infraestructura turística, lo que conlleva que durante los meses estivales se convierta en una playa muy concurrida por los turistas que desean disfrutar de uno de los enclaves naturales y familiares más bellos de Ibiza.
Otra de las razones por la que recomendamos esta cala es porque es ideal para el fondeo debido a que cuenta con una gran profundidad para poder disfrutar de uno de los mejores atardeceres de Formentera. Cala Saona es perfecta para fondear si deseas bajar a tierra y darte un baño con los más pequeños. La cala Saona es reconocida como uno de los puntos de turismo familiar más reconocidos de Ibiza.