THE BEST EXPERIENCES IN THE PITIUSA COAST
MEMORABLE EXPERIENCES IN THE MEDITERRANEAN SEA
The fun and adrenaline aboard a luxury yacht are endless. Nautic Blue will make sure that you experience this adventure like never before.
We put at your disposal different toys that will adapt to the needs of your trip for your maximum enjoyment.
Jet skis, foil and much more. Any water toy at your disposal. Discover them all.
ADRENALINE IN THE MEDITERRANEAN SEA
Experience sensations of extreme adrenaline through the best experiences.
There are many activities that can be done together to make your vacation unique and impossible to repeat.
The mild temperature of 25 degrees throughout the year, the crystal-clear waters of its beaches, and the wide range of nautical activities will allow you to experience sensations you've never felt before.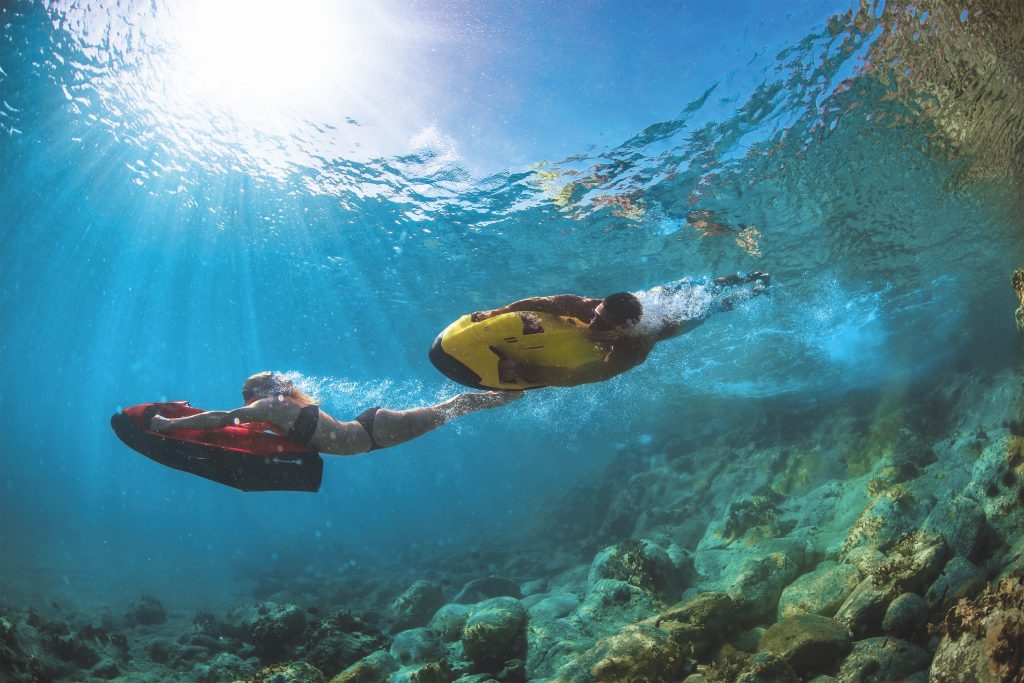 JET SKIS, FOIL AND MUCH MORE. ANY WATER TOY AT YOUR DISPOSAL. DISCOVER THEM ALL.
For those who want to keep up with the latest innovations, we offer a selection of high-tech toys that will allow you to enjoy the sea in all its beauty and splendor.
Speed to the surface, fly over it, or discover the underwater beauty in a totally exhilarating way.
From Nautic Blue, we offer you a selection for the whole family. The options on board are endless, as are the emotions.
Enjoy the sunset with a paddle-surf outing, snorkel and discover underwater fauna, find inner peace while enjoying a relaxing yoga session on the board, etc.
Our chef on board will be in charge of cooking the best delicacies for your palate. The work of our chef and crew is to serve you with the utmost excellence, the best dishes to taste, and unparalleled views from our luxury yachts.
Enjoy the sunset with a delicious meal marinated in the best wines. It is a luxury that we cannot explain; you have to experience it.
With Nautic Blue, you can enjoy the best catering in Ibiza, and we also offer the possibility of booking at the best restaurants on the island.
The natural wealth of Ibiza and Formentera is one of the best experiences in the world.
Discover coves full of exclusivity, tranquility, and beautiful landscapes in the purest Mediterranean style for those who wish to enjoy a unique and unforgettable holiday.
Nautic Blue has created this selection of the best coves in Ibiza and Formentera where you can taste a delicious aperitif, admire the natural landscape of the island, or enjoy a unique sunset in the world.
Anchor with one of our exclusive yachts, carefully selected to satisfy all your desires.
Heaven is a place on Earth, and we have no doubt that it is in Ibiza and Formentera.